Media monitoring
We know that media monitoring technology topic is to broad for one company to cover, however we know our place, and have repeatedly shown that we can deliver great value in field of electronic media acquisition and storage, for later clipping.
That being said, we can offer you systems that record audio and video content, namely TV and radio broadcast, through varying media and delivery channels.
Ta make it even simpler: we can record tv, analog and digital, even IPTV.  We can record radio, from the air or from the internet.  And will store it securely for your analysis and retrieval.

In order to get your system built and deployed, we would like to know few facts about what you need first:
what do you want to record?  How many TV channels, and how many radio channels?  How is the TV distributed, and also, how is the radio distributed (terrestrial, internet, satellite, …)
what results do you want from our system?  What output file formats you require, for clipped media?  Where will you distribute your resulting audio and video clips?
do you have any other system that you are familiar with?  What about your analysts, what is their level of computer usage competence?
Upon receiving such information, we'll be able to give you some estimate on hardware and software that will be required for your operation.  Full hardware and software requirements will be presented after all information is gathered.
From that, we will try to build you a proof-of-concept installation, with fewer channels and smaller storage capacity, to see its fitness in your organization so we can schedule additions to the system as needed before delivery.
Implementation time depends on various factors, but with full cooperation (and good weather) it can be done in up to 3 months.
Guarantee
Fastest clipping in the world
With our VideoPhill Player application, we think that we have invented a fastest way to clip the content from the media archive.  In the footage below you can see how it's done, and we would like you to ask for a demo so you can try it for yourself.
Please note that the video clip is done by amateur, and it's only purpose is to show the video clipping portion of the system. Audio might be choppy - that's because we used video positioning controls extensively.
Options
Automatic content retrieval (PlayKontrol)
To make the proces of identifying repeating content in the field of media monitoring, we are in advanced development stage of a new product that will enable media monitors to find all occurrences of a audio or video clip inside one channel just right after identifying one instance of it.
PlayKontrol(tm) works in three modes.  First mode is standard, and it offers matching the archive stream against the well-known database you create.
Second mode is automatic, and will help you create the clip database by identifying repeating content through one day of the station broadcast.  Here is the graphic representation of the result of such matching.  Graph represents one day, and as a result on the graph it's shown where in the day timeline there are two identical clips that were played.  Later, identified clips are tagged and inserted into the database for the first method to use.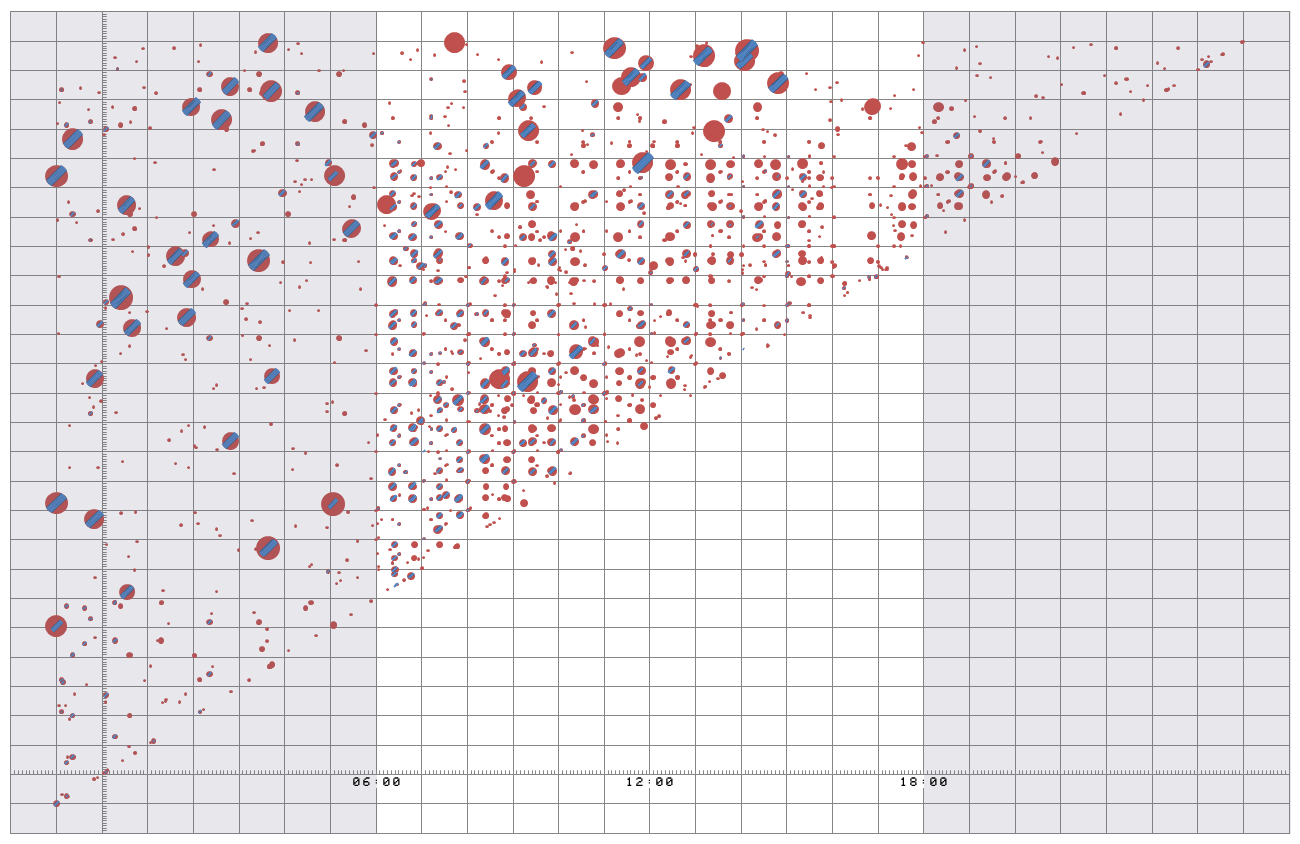 Last mode of PlayKontrol usage is same as first, but has real-time reporting capabilities.
Please contact us for more information about PlayKontrol and how we can showcase it to you.
---