VideoPhill Recorder
VideoPhill Recorder is an application used for archiving a video signal.  We designed this software to be as simple and inexpensive as possible.
Some situations where you can use VideoPhill are:
archiving your broadcasted video
compliance recording purposes
later detailed analysis
media monitoring
home/office surveillance
Here are the features that VideoPhill has:
recording of a video signal through the use of Osprey video capturing devices - actually, any other capture device will do
simultaneous recording of an audio stream
adapting to other playback systems
imprinting timestamp directly into the saved material
detection of signal loss and e-mail reporting of such
auto start upon system reboot
local or remote (LAN) playback of a recorded archive via VideoPhill Player
creation of a video archive as long as you want depending on the quality required and the disk space available
various frame size options and bitrate/quality configurations
archive without a single frame loss
visual indicator of audio signal
file export for playback on other computers
simultaneous recording from multiple capture cards
Recording of a video/audio signal
VideoPhill produces Windows Media files that contain both a video and an audio stream.  The video signal is captured using one of the supported Osprey video capture cards and combined with the audio signal from one of the available audio sources, encoded and finally written to file.
By using audio and video compression, you can store many hours of video, even months, on inexpensive disks of even 320 GB.
Unlimited archive length
The encoded files are split and saved in chunks of half an hour in length.  This way you can archive many days of video/audio.  The only limit is the size of your storage units (hard disks) and is reversely proportional to the quality of the saved stream.  If you want better quality video, fewer days can be stored in the same amount of disk space.  Here is a table of archive length vs. video quality vs. hard disk space required. You can use it to estimate your space requirements.
Stream quality
kbit/sec V+A
MB per Hour
GB per Day
GB per Month
256+256
225
6
180
512+256
340
8
240
1024+256
565
14
420
2048+256
1013
24
720
Figures in this table are provisional, and you should use the demo provided here to see what quality of video will satisfy your archive requirements.
Files older then the defined number of days are automatically deleted, so you don't have to worry about filling your disk space beyond your control.
Adapting to other playback systems
We know that our player is great and provides best access to the VideoPhill Recorder - created archives. However, there might be some other system that you want to use with our video recorder. For that matter, we created the option for custom file naming that you can use. You can enter any file name and use timestamp as its component.
Please see this picture: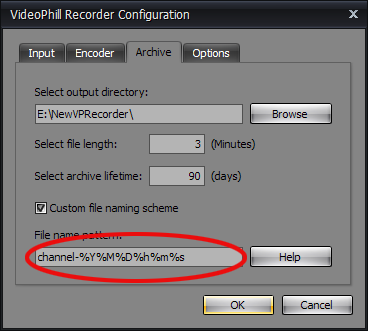 Imprinting timestamp directly into the saved material
There are times when broadcasters need to know exactly when the video was taken, and to do that, graphical timestamp is inserted into the recorded picture at the time of recording.
There are appropriate options to move the timestamp around the picture, change its color and format its text.
Please see picture below: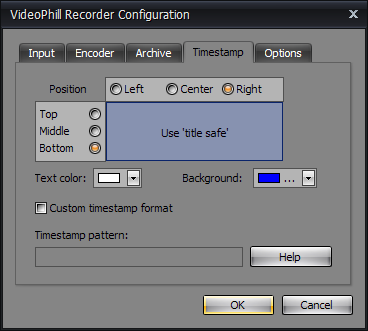 Detection of signal loss and e-mail reporting of such
If you want to know if any of inputs to your recorder is failed, you can instruct VideoPhill Recorder so it will send you an e-mail any time that signal loss is detected for a certain amount of time.
In order for it to be completely customizable for all kinds of capture devices, you can enter color of the picture that is present where there is no signal. Some capture cards let you define that color, and some have it fixed.
We can help you determine right numbers for your capture card here. Contact us if you need assistance.
Please see picture below: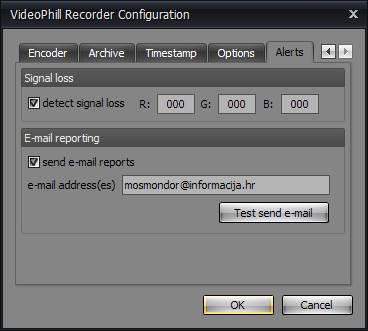 ---